Boeing Buys Bus for YMCA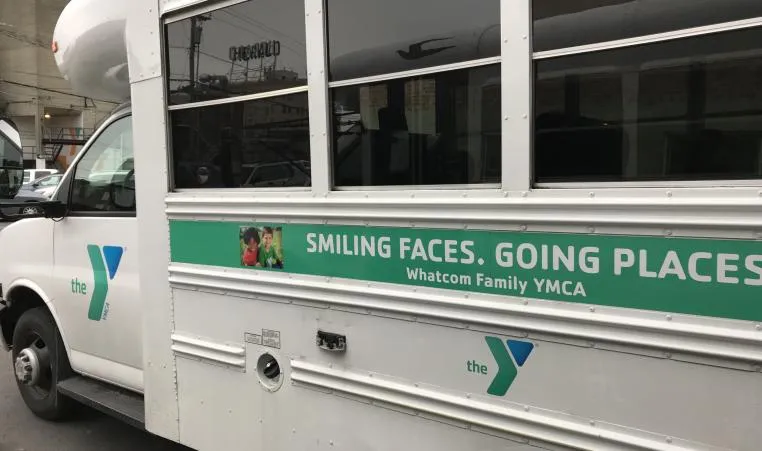 Employees Community Fund of Boeing to purchase 14-passenger bus for the Whatcom Family YMCA through community grant
The $40,000 grant will replace one of the Y's current 15-passenger vans with a newer, safer 14-passenger bus.
BELLINGHAM, Wash. May 10, 2019 – The Employees Community Fund (ECF) of Boeing Puget Sound has generously awarded $40,000 to the Whatcom Family YMCA to purchase a 14-passenger bus.
Replacing one of the Whatcom Family YMCA's older 15-passenger vans with a 14-passenger bus will increase auto and roadway safety and provide reliable transportation to the youth who rely on Y programming. By purchasing a dependable bus with funds from ECF of Boeing, the Y will ensure its programs are accessible to all and sustainable for years to come. 
YMCA vans are used by youth every year, and the Y transported approximately 1,150 young people to various Y programs in 2018 across Whatcom County and beyond. While most of these programs require vans for transporting kids from site to site, or to take kids on field trips, others use the vans for transporting underserved youth from their community to the program site. Many of these programs support kids on Y scholarships who greatly need access to Y services. 
Currently, vans transport kids in the following Whatcom Family YMCA programs: Y Adventure Club, Youth Institute, Girls on the Run, Y Adventure Camps, Y Adventure School, Trailblazers, Kids Enrichment Days, and Youth & Government.
"We're grateful to the employees of Boeing for understanding and supporting the need to keep our kids and community safe," said Bill Ziels, CEO of the Whatcom Family YMCA. "By helping us upgrade our fleet of transport vehicles, the Employees Community Fund of Boeing has joined us in our commitment to foster youth development and build a healthy community for all. Thanks to this new partnership, we're excited to get the bus on the road and continue to change young lives for the better!"
To learn more about the programs that will utilize the Y's new bus and how the Whatcom Family YMCA is making a difference in the community, visit www.whatcomymca.org.
About the Whatcom Family YMCA 

The Whatcom Family YMCA is an association of individuals with shared values which enhance the community with programs for the spirit, mind and body. Established in 1890, the Whatcom Y is the community's longest operating human service agency. The Y gives seniors purpose, educates teens in leadership, improves literacy, supports cancer survivors in their recovery, provides dignity to the homeless, and so much more. In 2018, the Y improved the lives of 12,000 members through transformative programs and fitness facilities and provided over $500,000 in financial assistance. Their purpose is to strengthen the foundations of the community, and everything they do is grounded in this goal. Learn more at www.whatcomymca.org. 
About the Employees Community Fund of Boeing 

ECF is an employee-owned and managed charitable giving program. Since 1951, generous Boeing employees have contributed over $600 million to local nonprofits. ECF grants enable local health and human service agencies to purchase much-needed equipment, renovate their facilities and build new construction that directly benefit their clients. ECF grants have gone toward community projects such as aiding the homeless, stocking food banks, helping at-risk children succeed in school, providing job training for the unemployed, funding critical health services, supporting veterans' programs and more.

Media contact
Elana English
Marketing and Communications Director
Whatcom Family YMCA
360.733.8630
eenglish@whatcomymca.org