Have You Downloaded Our FREE Mobile App?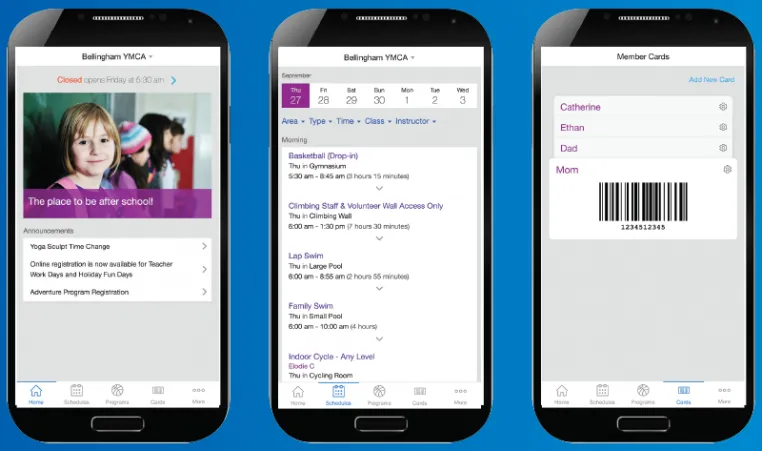 Stay Up-to-Date With The Y's APP!
If you haven't heard already, we have a mobile app! We're making being a member at the Y fun and efficient with our app that is simple and easy to use, and contains all the information you would need – right at your fingertips.
So why download? Below you'll find 6 reasons you need the FREE Whatcom Family YMCA mobile app.
Search Class Schedules
Not having a printed paper with the class schedule, or a computer nearby is no longer a problem! With the mobile app, you can access class schedules from anywhere.
Sync Classes to Your Calendar
On top of being able to search each facility class schedule from anywhere, you can then sync the classes you take into your calendar, keeping you on track and organized. You'll no longer miss your favorite classes due to forgetfulness!
Mobile Check-in

Do you find yourself fumbling through your workout bag in front of the check out desk looking for those pesky keys that have your member card attached to? Fumble no more! The mobile app makes checking in swift and easy. All you have to do is have open up the app and hit the card button, and you're ready to roll.
Multiple Member Cards
Not just you on your membership? No problem. You can have all your membership cards on one single app so you only have to open the app once to check in all your members at the same time.
Register for Programs
You can now register for programs from HIIT Class to Rookies Basketball League anywhere at any time through the mobile app.
Received Push Notifications
We make every attempt to avoid cancelling classes but that sometimes does occur. We will send you a Push Notification to let you know of any major changes to our schedule. And as we approach the winter months, we will send our notifications of closures due to inclement weather.
You can find the app in both the Apple App Store and Google Play by searching Whatcom Family YMCA. Check it out - we'd love to hear what you think!